The Majestic Acrylic Frankenstein Radio
By: John Frank Parker (Member of AHRS)
The Majestic, Acrylic, Frankenstein Radio began life as a Majestic Radio Model 6T-120, broadcast band radio in the year of 1947.  The radio was housed in an attractive wooden, table top cabinet.  Who knows what journey the radio took during these past seventy two years, but along the journey, the attractive wooden cabinet traveled a separate path and was lost from the radio chassis.  The chassis of the Majestic radio was found in inoperable condition and missing the three original knobs, (ON-Off-VOLUME), (TONE), and (TUNING).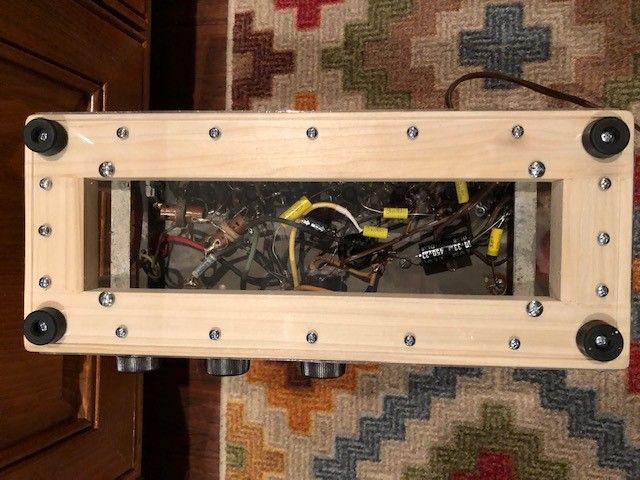 I acquired the radio chassis in the above mentioned condition. I cleaned some of the seventy-two year old dust and dirt from the chassis to make the next step more pleasant. I began to attempt to repair the radio to a working condition by checking the tubes, replacing the electrolytic capacitors, the paper capacitors, the power cord, and some wire.  The speaker also needed some repair attention.  The radio was brought back to a playing condition, picking up local AM Broadcast radio stations.  However, still no cabinet to house the radio.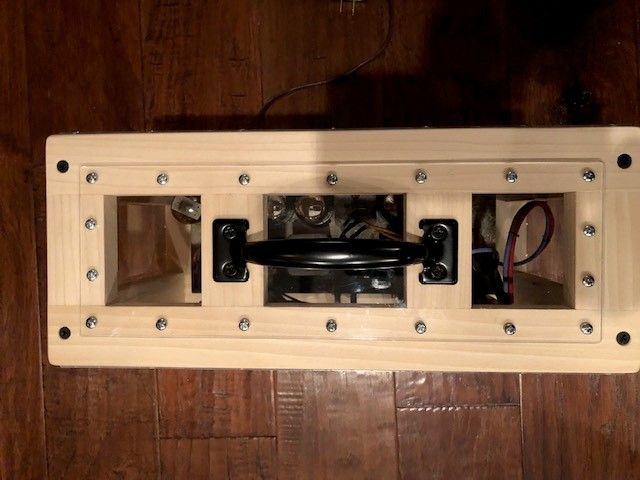 I was going to build a wooden cabinet, but decided to try to build a cabinet made of acrylic so that the chassis, tubes, and all parts of the radio could be viewed.  A trip to LOWE'S and I had a sheet of Acrylic.  After making some measurements, I designed what I thought would house the Majestic Radio.  I also purchased some 1X2 poplar wood to build a frame.  After several careful measurements, I drilled holes in the Acrylic and began assembling the wood frame and attaching the Acrylic top, bottom, front, back, and sides to the wood frame with screws.  I attached a carry handle to the top.  I salvaged a loop antenna from an old RCA radio back and removed the wire loop and attached it to a piece of wood which I attached to the Acrylic back of the Majestic radio.  That is why the RCA "Golden Throat" logo sticker is on the wood housing the loop antenna. New rubber feet were attached to the bottom of the Acrylic cabinet.  By my count, some one-hundred thirty-four screws were used in this project.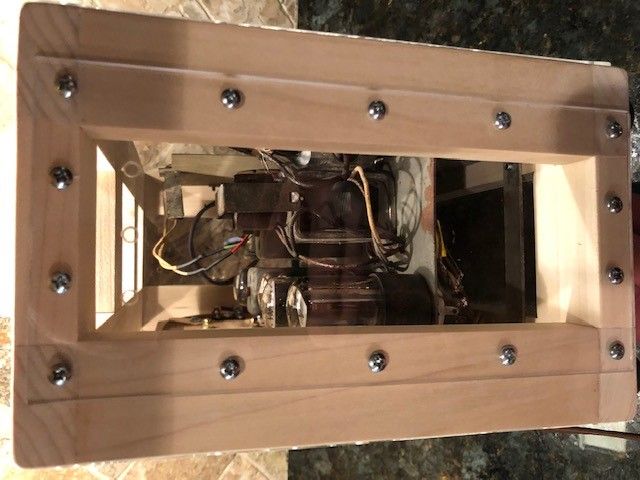 The radio sounds good and my grandson says it looks neat in a dark room with the dial light and tubes glowing.  My grandson will be getting this Majestic, Acrylic, Frankenstein, one of a kind radio that I worked on for approximately two months.