Note from President Dave
Greetings to all !!
Let me begin by wishing all of you a happy, safe and healthy new year. December was a busy month at the shop. We closed out the year with our annual Christmas party and election of officers and directors for 2020. I am honored to serve as your president for the coming year!!! I appreciate all the help and support the members gave me last year. Please continue to do so this year as well. The party was well attended with 51 members and guests. The weather was much better than it was last year. I am sure all that came enjoyed the excellent food and fellowship. I want to thank all who helped make this event a big success!!!
Progress continues to be made in all areas including shop, library, tube room, parts storage area and our new web site. Thanks to all of you for the work you are doing in these areas. Donations continue to come in which means another auction may not be far away.
We have three events planned in the near future. A school group will be coming next Friday and another one February 27 to tour the shop and museum. The two events at the shop will require some preparation so any of you who are available on those days we could use your help to manage the visitors. We expect as many as 50 or more in each group. Also, we recently received a request for a radio history program at a church in Pell City, Alabama on January 30.
We will also be participating in the Birmingham Amateur Radio Club Hamfest in early March. We are currently preparing our display and forum for the event.
Beginning a new year is always exciting. I am sure 2020 will be another exceptional year for the Society.
Remember Society due are payable in January. That's all for now.
See you at the shop.
Dave
Officers & Board of Director for 2020
President - Dave Johnson
Vice President - Steven Westbrook
Treasurer - Mike Woodruff
Recording Secretary - Dee Haynes
Board of Directors
Chairman - Dave Cisco
Directors:
Julian Brook
Jim Cawthon
Ray Giles
Willie Henderson
Dave Johnson
Whats Happening at the Society
Christmas Party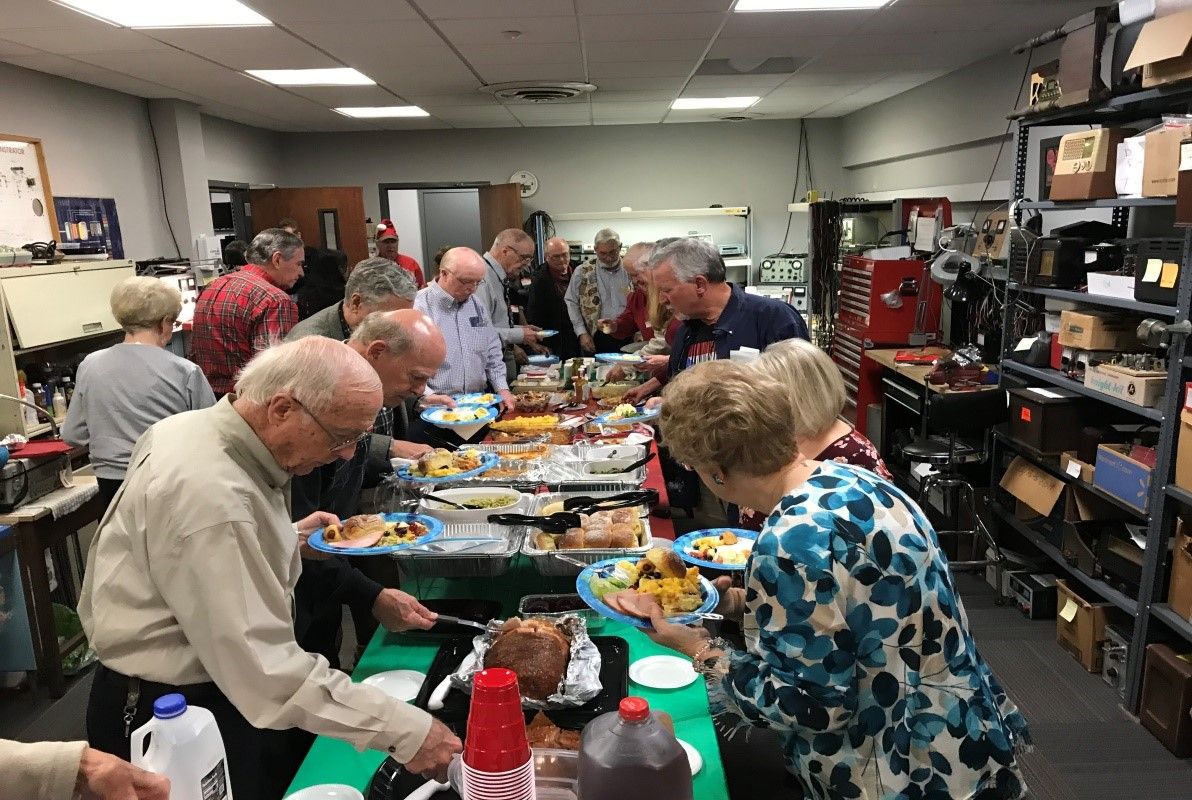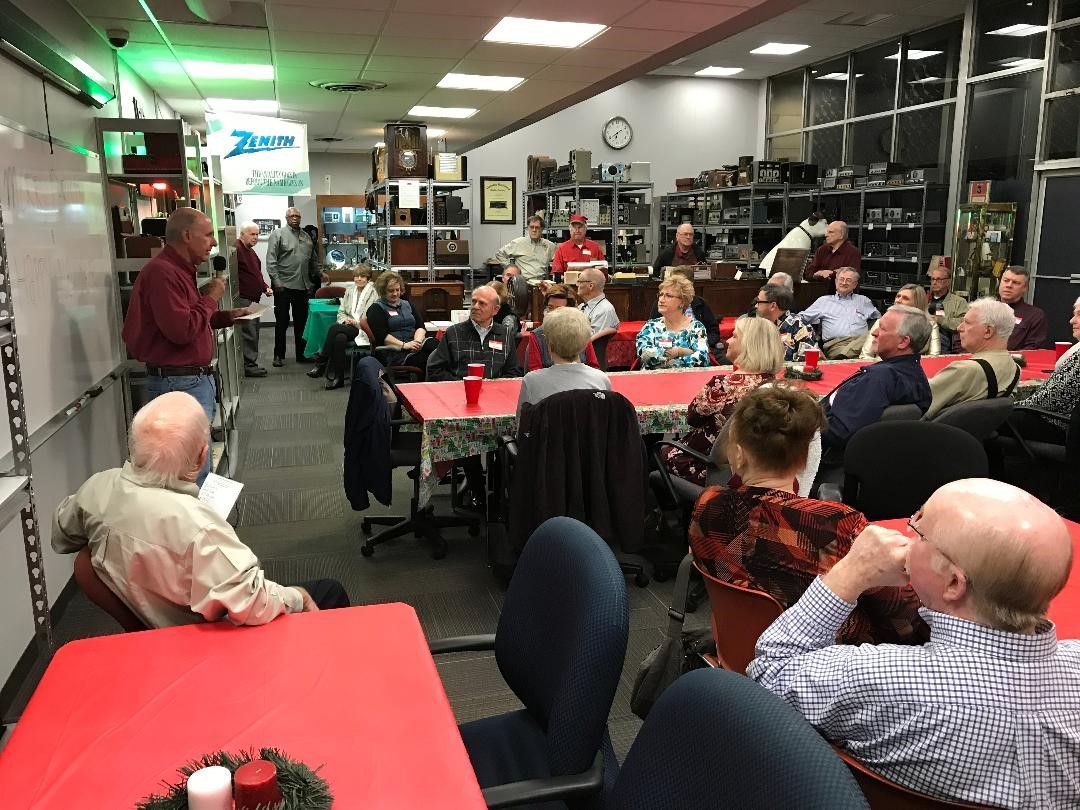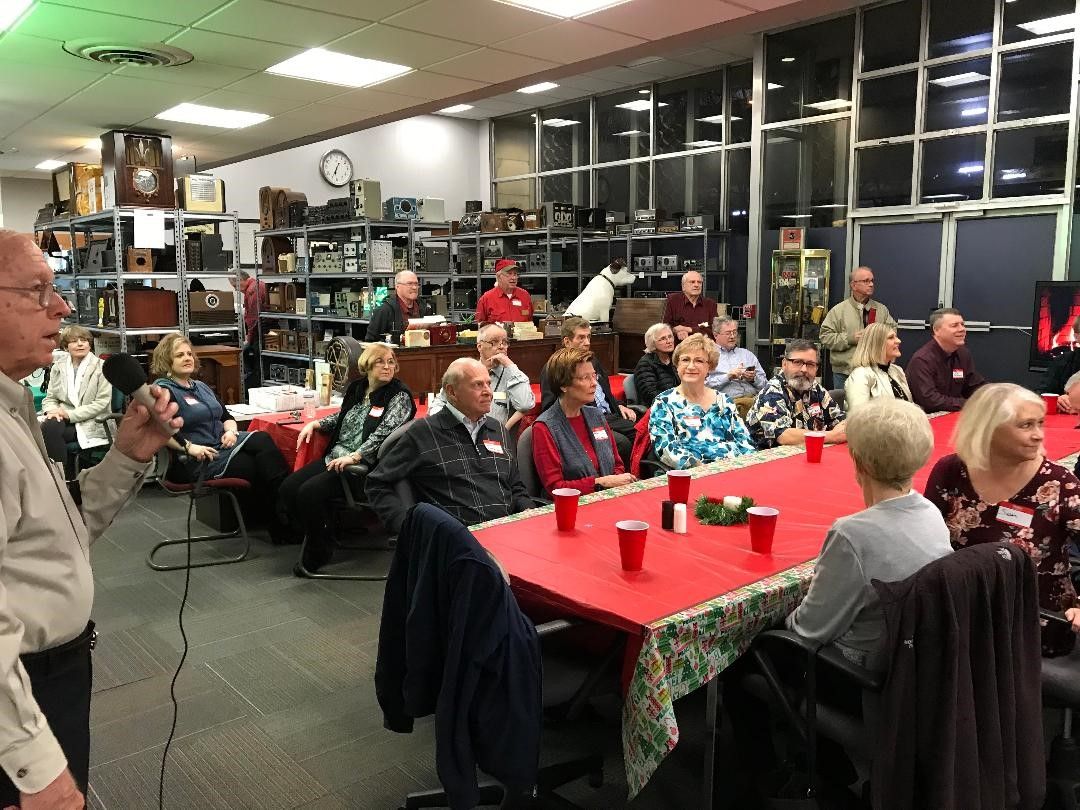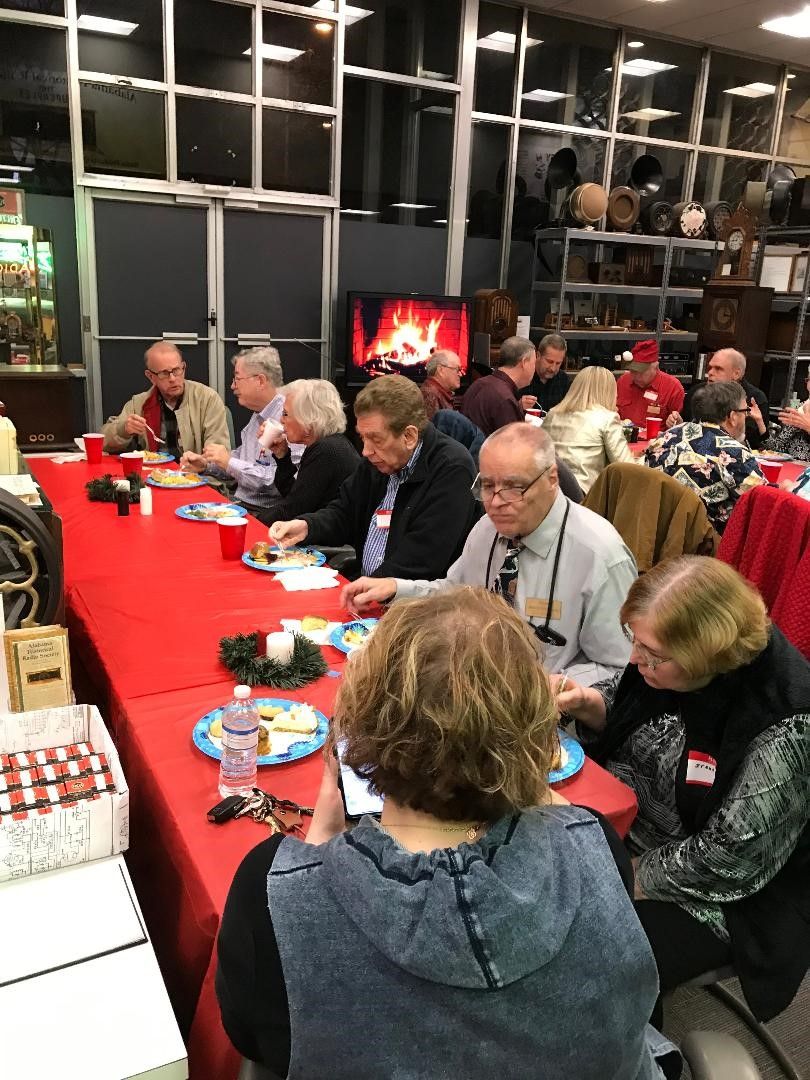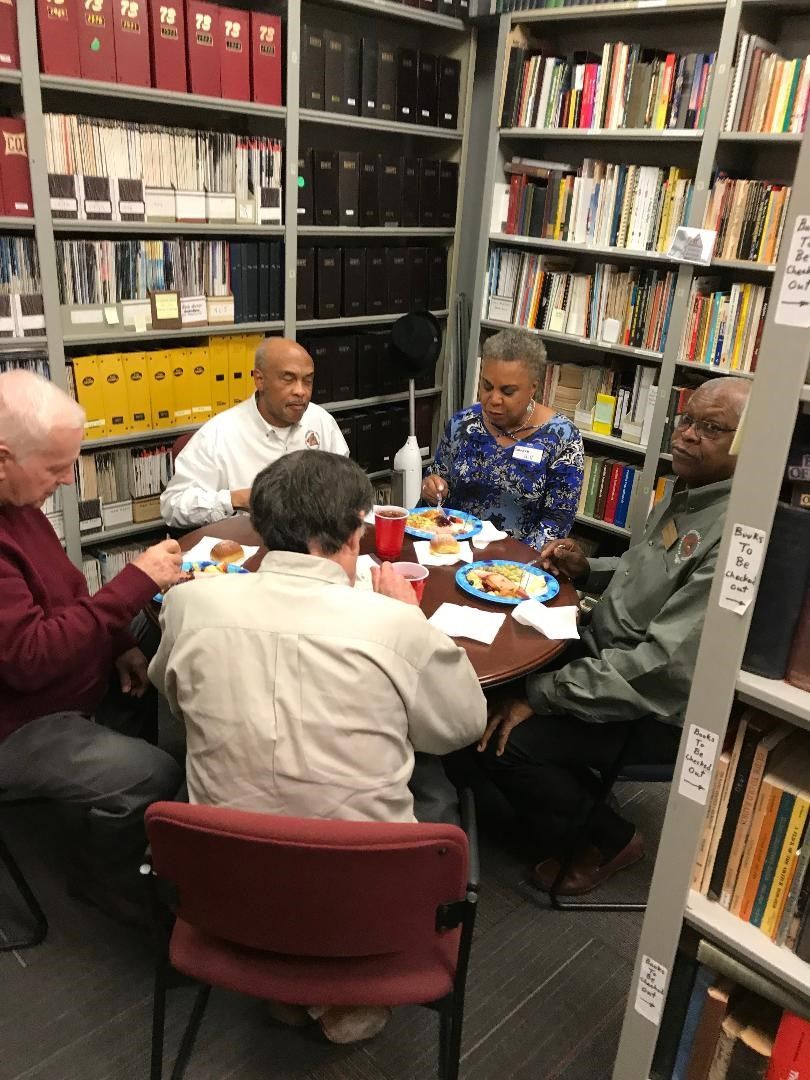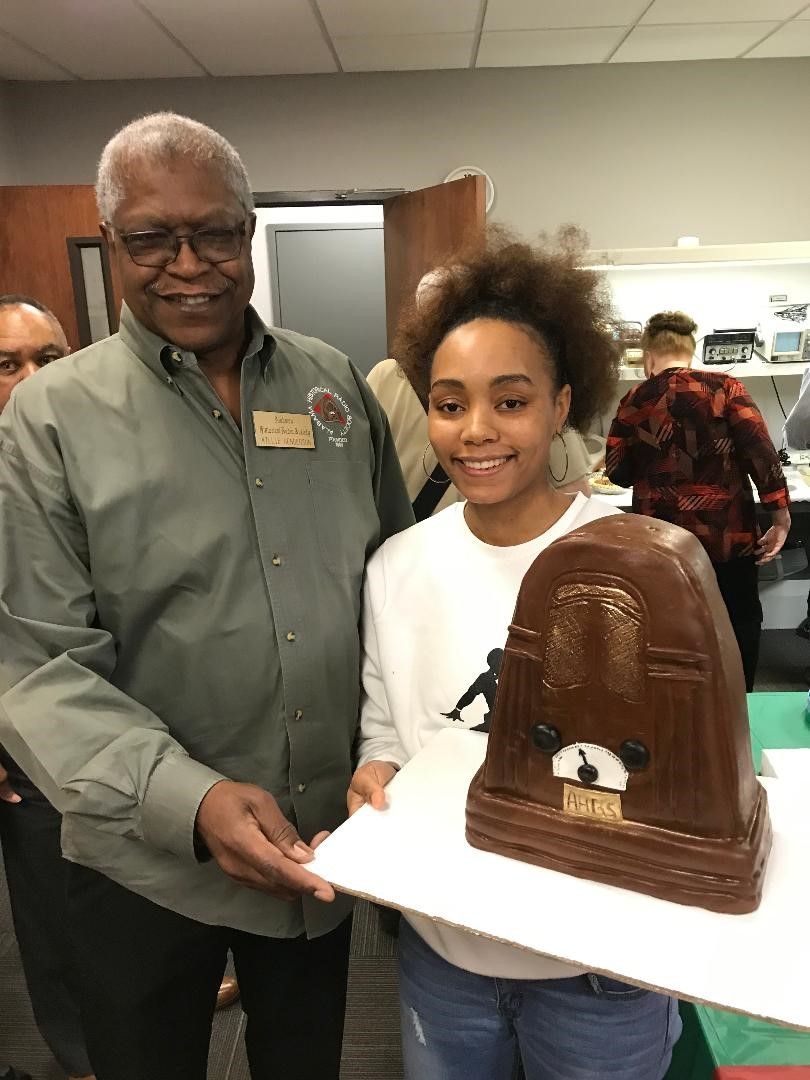 After Party Events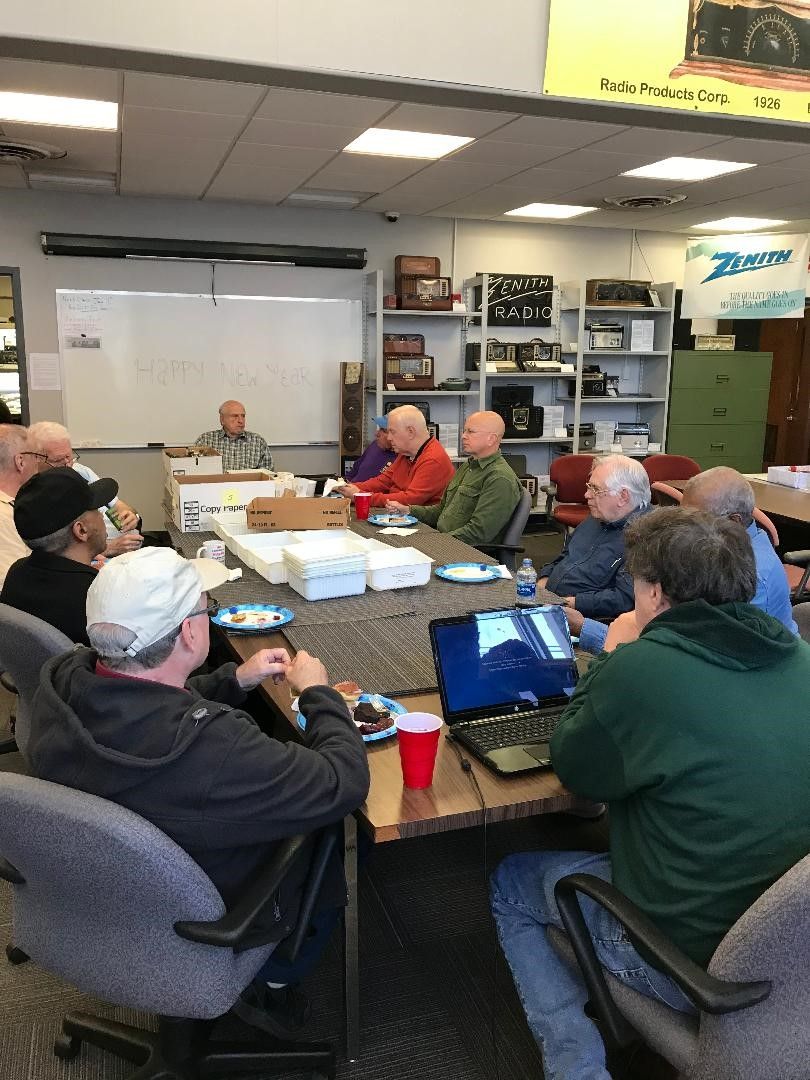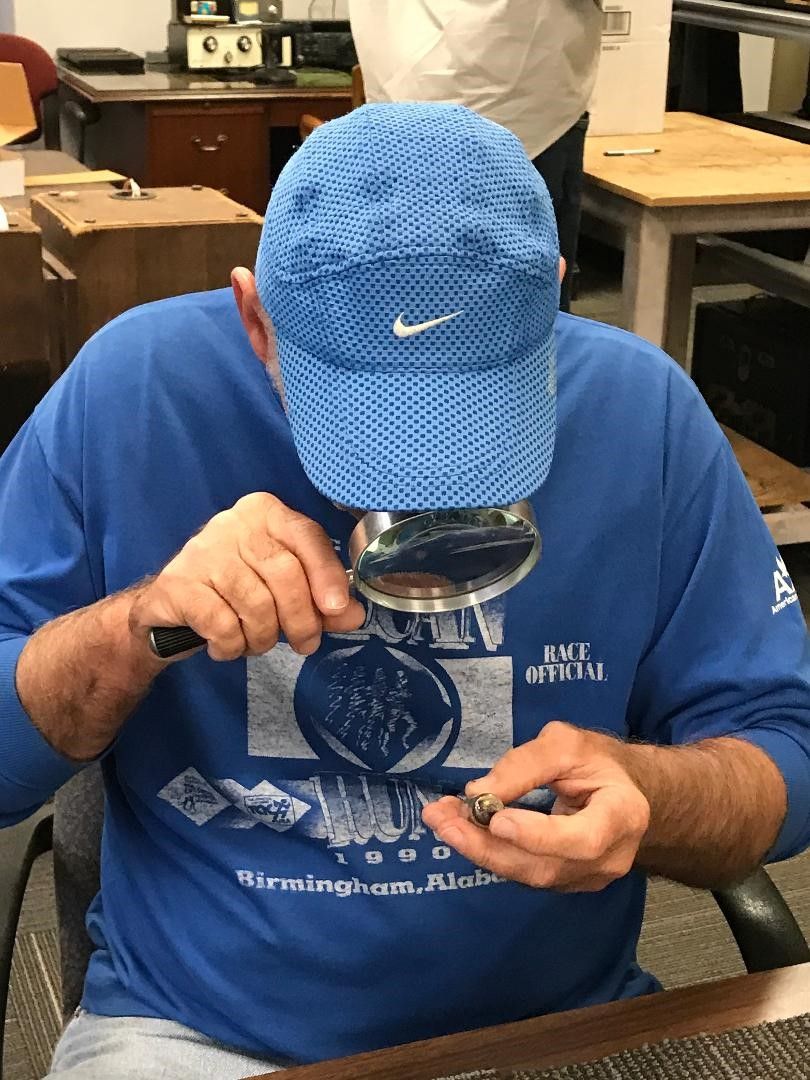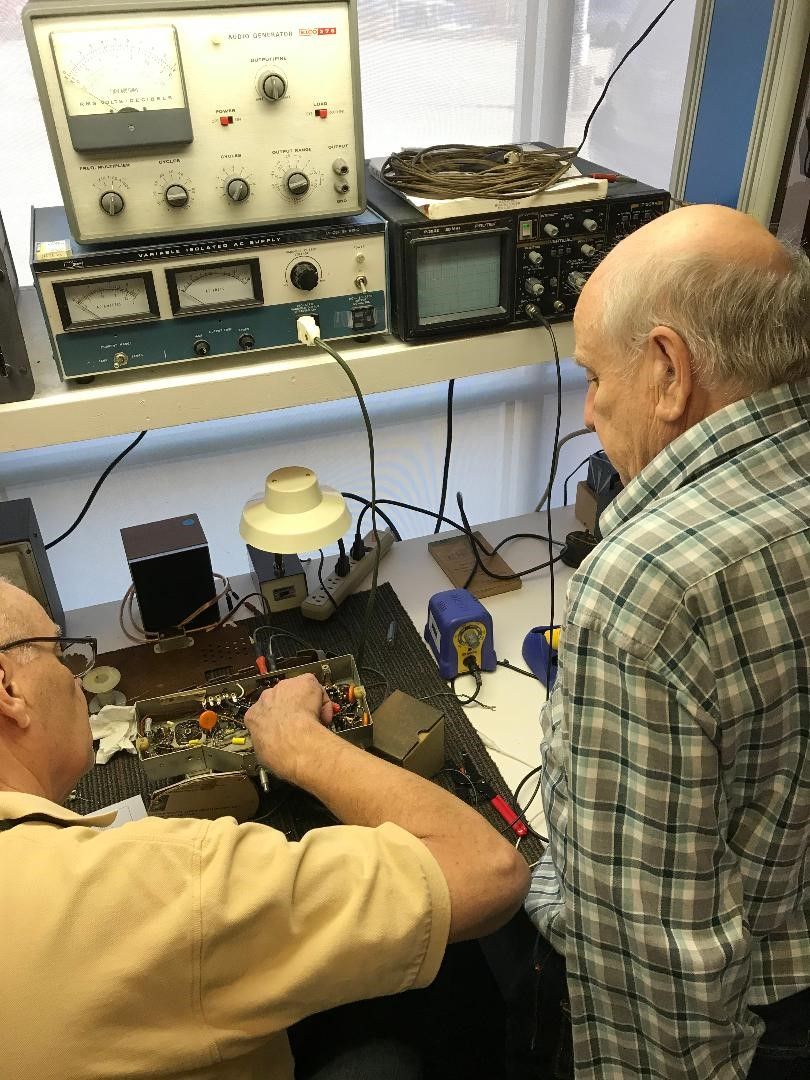 Quote of the Month
Submitted by Steven Westbrook
"Is there any anybody out there" Pink Floyd, "The Wall"
Don Imus, Legendary 'Imus in the Morning' Host, Dies at 79
Submitted by Steven Westbrook for publication in the "Superflex"
2:19 PM PST 12/27/2019 by Duane Byrge , Katie Kilkenny
The controversial radio personality passed away on Friday morning at Baylor Scott and White Medical Center in College Station, Texas.
Don Imus, the radio personality whose insult humor and savage comedy catapulted him to a long-lasting and controversial career, has died at 79. His three-hour radio program, Imus in the Morning, was widely popular, especially with the over-25 male demographic.
Imus died Friday morning at Baylor Scott and White Medical Center in College Station, Texas, after being hospitalized on Christmas Eve, a representative said. The cause of death was not disclosed.
Mike and the Mad Dog host Mike Francesa tweeted Friday, "Shocking news on the passing of my friend, Don Imus. He will long be remembered as one of the true giants in the history of radio."
Morning Joe host Joe Scarborough added, "Morning Joe obviously owes its format to Don Imus. No one else could have gotten away with that much talk on cable news. Thanks for everything, Don." Morning Joe started as a fill-in for Imus in the Morning after Imus was fired from MSNBC in 2007.
Imus in the Morning, which debuted on WNBC-AM in New York in 1971, most recently reached radio listeners via Citadel Media and was simulcast on the Fox Business Network.
Imus was loved or hated for his caustic loudmouth. Outspoken in an age of political correctness, his often coarse satire offended sensibilities. Yet his listeners included those whom he often ridiculed. His call-in guests included President Clinton, Dan Rather, Tim Russert, Bill Bradley, David Dinkins, Rudy Giuliani and political analyst Jeff Greenfield, who once remarked, "He's out there talking the way most of us talk when we're not in public."
Imus battled a lifelong addiction to drugs and alcohol. In 2009, he was diagnosed with prostate cancer.
Imus was often compared to syndicated shock jock Howard Stern, who also had a stint on WNBC radio early in his career, and they frequently appeared on each other's shows. Although Imus could not match Stern's audience in terms of numbers, advertisers were well aware of Imus' better-educated and richer demographic, often preferring him.
Imus in the Morning sandwiched music around his in-your-face commentary, in which he mocked authority figures and ridiculed social and political problems. His no-holds-barred humor, including gags and pranks, spurred the onset of "shock jocks" like Stern. A mix of rock 'n' roll, raunchy humor, call-ins and hard barbs, Imus in the Morningwas a huge hit.
He also performed stand-up for a time, garnering favorable reviews from such unlikely reviewers as The New York Times.
An active philanthropist, Imus and his wife, Deirdre, founded the Imus Ranch in 1999, where each summer children with cancer could enjoy the outdoors.
John Donald Imus Jr., was born on July 23, 1940, in Riverside, California. He was raised in Prescott, Arizona, where his family owned a large ranch. He dropped out of high school to join the U.S. Marines, and after basic training won a chair in the band.
Following discharge, he worked at an array of odd jobs: window dresser (he was fired for staging mannequin striptease shows), uranium miner and railroad brakeman, where he suffered a serious neck injury and won a large cash settlement.
While recovering, he set his sights on becoming a disc jockey, ostensibly to play his own music on the airwaves. He moved to Los Angeles, enrolled in a Hollywood broadcasting school and landed his first deejay job at KUTY, a station in Palmdale, California.
During an eight-month stint there, he developed a skill for comic patter and moved to KJOY in Stockton, California, where he staged satirical social and political gags, including an Eldridge Cleaver look-alike contest when the Black Panther was on the lam. His station manager did not see the humor, and he was fired.
He moved to KXOA in Sacramento, where his satirical hijinks were appreciated by the station manager, who counseled him that his humor would be more lethal and less likely to attract legal action. Intent on becoming more lethal, Imus created a slew of satirical characters, including the huckster Rev. Billy Sol Hargus.
His on-air antics infuriated authorities, including the FCC, which was not amused when he phoned a fast-food outlet and ordered 1,200 hamburgers and requested a bizarre array of toppings. The gag resulted in a ruling that deejays must identify themselves when making on-air calls. The clash with government authority, not surprisingly, boosted his ratings, and KXOA was No. 1 in Sacramento while he was there.
Imus is survived by his wife, Deirdre; sons Wyatt and Lt. Zachary Don Cates; and daughters Nadine, Ashley, Elizabeth and Toni.
"Don loved and adored Deirdre, who unconditionally loved him back, loved spending his time watching Wyatt become a highly skilled, champion rodeo rider and calf roper and loved and supported Zachary, who first met the Imus family at age 10 when he participated in the Imus Ranch program for kids with cancer, having battled and overcome leukemia, eventually becoming a member of the Imus family and Don and Deirdre's second son," his family said in a statement.
Here is another article by Gary Stork relating to the history of VM (Voice of Music)
Submitted by Steven Westbrook for publication in the "Superflex".
The Voice of Music
FOR COLLECTORS, ENTHUSIASTS, AND FRIENDS OF V-M CORPORATION                   AND ITS PRODUCTS
Vol. 4. No. 1.                                                         January, 1999
Published by Gary Stork four times a year (January, April, July, and October).
V-M Collector's Voice Newsletter
37530 E. Meadowhill
Northville, MI 48167-8915
"The Voice of Music ® and other registered trademarks of V-M Corporation contained herein are used by permission.
The purpose of the V-MCV Newsletter is to foster interest in collecting and restoring
V-M products, and to preserve the memory of V-M Corporation's role in audio history. January 2000 and forward issues are available free at www.thevoiceofmusic.com  where you will also find interesting V-M history, photos, and how to contact us for repair/restoration parts and advice.
Welcome to another new year! I hope everyone had a joyous and safe holiday season. 1999 is the 55th year that V-M Corporation has been a registered corporation in the State of Michigan. I need to break the news to you however, that this past year has seen a lot of change. The building at 305 Territorial in Benton Harbor, which V-M Corporation has been operating out of since the bankruptcy, has been demolished! Fortunately, much of historical and practical value has been saved, due to the diligent, hard work of many people. This issue will be devoted to documenting this recent history, with a focus on
V-M's operations after the bankruptcy through the present.
In 1958, the Heath Company (Heathkit) of Benton Harbor built new, larger facilities in the southern part of nearby St. Joseph. They sold the building at 305 Territorial with the yellow brick facade to V-M Corporation. The growing V-M did some remodeling and occupied the building in 1959. Known as Building #17, it initially housed engineering on the lower floor and offices on the upper floor - removing these activities from Building #1 which housed record changer manufacture. This move permitted the record changer plant to expand capacity, and improve the conveyorized wash, rinse, bonderize, dry,
electrostatic spray of enamel, bake, and cooling operations for baseplates, turntables, tone arm housings,  etc. for record changers, plus a number of metal tape recorder parts. On the roof of Building #17, V-M placed a tall tower with an impressive antenna array for use by the tuner department.
The bankruptcy hit in mid-July of 1977. The ten buildings that V-M owned at the time were put up for sale at the court-ordered auction. Only a few sold at that time, and 305 Territorial never did sell. With the help of friends who believed in what V-M had been doing to generate money for the creditors for two years, some items were preserved. Such items plus items that did not sell at all eventually ended up in Building #17. On the first floor were assembly machines for manufacturing record changer cam gears, and other items, file cabinets containing tooling blueprints and communications, the engineering vellum files, boxes of service manuals, the V-M "historical" collection of equipment, and skids of parts literally scooped off the production floor when production ceased, to keep them from being stolen by vultures that "work" auctions largely for that purpose. There was also an area of workstations that would be used in the 1980's and early 1990's for various projects to be described later. The second floor retained some office area and numerous racks and skids for storing parts, service manuals, boxes and files from payroll, purchasing, the marketing and styling departments, etc. Some of this material had been literally thrown into boxes as the original desks, file cabinets, etc. that housed them were auctioned off. The remainder of the second floor was also used for various light assembly/repair operations during the years following the bankruptcy.
In January, 1985 the remaining stock of service parts was returned to the building after Data Communications, a Berrien Springs company that bought them at auction, no longer wanted to continue selling them. Victor Miller comments: "I remember a number of cold days in January when we moved load after load of parts back in. The ice was so thick some days that we had to chip it away to open the back door." These parts took a considerable amount of space on the second floor.
Better Days: 305 Territorial in November, 1962
At first, within the bankruptcy, V-M Corporation was regulated by the Court, and had to obtain permission for all activity, especially manufacture. V-M projects under Bankruptcy Court supervision included the manufacture of Model 270-6 institutional monaural record changers, to be sent to Canada (the instructions on the inside lid were repeated in both English and French!), and a number of cassette decks for customers such as New Century Education Corporation, Beltone, and Terra Technology (see
January 1998 issue). Cassette deck assembly continued as late as 1989, for former cassette deck customers with continuing needs.
V-M drew upon resourceful former employees as needed to carry out a number of other activities in the building. For Thompson Electronics of France (who subsequently took over the consumer home entertainment product lines of both GE and RCA), V-M in 1978 and 1979, reworked 20,000 of their turntables. Prior to the bankruptcy, V-M had, for the December 1976 Christmas season, custom assembled an early electronic ping pong game. The company that entrusted this rush project to V-M sought out V-M nine years later as Factory Direct Marketing with a number of projects - including the repair in large quantities of Cobra feature phones, AT&T answering machines, and car radio/cassette players.
By 1992, none of these projects remained profitable, and V-M Corporation retained only Lona Nalitt to handle parts and service manual sales, helping owners of V-M equipment to link up with qualified Service shops, and do the inevitable business bookkeeping required of any entity, regardless of how limited its activity.
Although I have been corresponding with V-M Corporation since I first began collecting in 1971, my first trip out there was not until 1994. By this time, the building's flat roof was in serious disrepair. Inside, there was plenty of plastic sheeting hung from the ceiling to direct water to strategically placed buckets, barrels, etc. The roof had already collapsed over a couple of smaller rooms, which were sealed off, but remarkably, was still intact over the main part of the building.
My trips began to become more frequent, as my interest grew. During 1995, 1996, and 1997 the trips included a mixture of activities, including obtaining parts, doing research for this newsletter, and along with some helpers, strategically relocating parts and other goodies to stay one step ahead of the in-house rainfall, melting snow, etc. At the end of the Winter of 1996, the boiler went out. Then the phone lines had to be restrung to bypass a short somewhere in the building. Additional parts of the roof were starting to collapse. A strong steel ladder was pressed into service to hold up one section. In June of 1997, after a brief inspection, the City of Benton Harbor posted "Condemned" signs on the building.
Strangely, nothing more was heard from the City for over a year. Fortunately, the winter of 1997-1998 was a mild one - and Lona was able to tolerate the front office temperature with the help of an electric heater. Victor Miller had a couple of other heaters located in the bathrooms to keep the plumbing from freezing. It appeared for awhile that they would be able to get through the winter without any water pipes freezing - but an early Spring cold snap proved to be too much. From that point on, the water was shut off to the extent that the old main valve would allow, as the pipes had burst in an inconvenient
location.  With a combination of a little city water for coffee and hand washing, and captured rainwater for the toilets, the facilities were rustic and crude, but useable.
Over the Summer of 1998, articles began appearing in the local newspaper about a possible new use for the land on that block, including the old record changer plant (Building #1) on the North side of the block bordered by Territorial, Fourth, and Park streets. It became clear that I had to pick up the pace in moving parts, manuals, etc. out of there. I organized a trip on Saturday, September 5 with Mike Schnabel and John Reinicke. We learned that morning that someone had been in the building the previous day - as evidenced by a disposable protective suit of clothing. Finally, the next week Victor Miller heard from Cornerstone Alliance - a government/private group spearheading urban renewal in Benton Harbor. He attempted to reason with them about a reasonable time to vacate the condemned building - but there was no give. My work and that of whoever I could rustle up, was now proceeding at a fever pace. I exhausted my remaining vacation days, worked Saturdays and Sundays to get the parts, manuals, etc. out.  A second phone call to Victor Miller from Cornerstone Alliance on Friday,-September 11 confirmed the worst - V-M had to be out in a week! Only a little relief could be negotiated- the next Wednesday after that - because a crew was coming to empty the building of all contents.
I went out both that Saturday and Sunday. Work crews arranged by Victor and his brother Stanley, everything they could that week and into the next week until the wrecking crew came on the scene Wednesday, September 23. They took over even as Lona, Victor, and the various work crews were scrambling to get things out. They brought in a big machine with claws, and proceeded to push interior walls and anything else that remained, out through a hole they had made in the back of the building. There, trucks would pick it up and haul it to the landfill. The work proceeded extremely fast. I had several important assignments at work and could not get out there those last few days. I got daily reports
from Lona and Victor, as we concentrated on priorities of what remained. By Thursday afternoon, the claws cut the power, and by Friday - it was all over. The building was empty. The next couple of weeks involved removing asbestos from the building and preparing it for demolition. The structural wrecking started the week of October 19, and by the time I snapped the picture for this Newsletter on October 24, both the building at 305 Territorial and the old record changer plant were gone.
The Epilogue: Victor Miller, Lona Nalitt and I sincerely thank those who helped in those last days. The honor role: Frank Dettloff, Paul Garbarcyk, Greg Platt, Mike Schnabel, and for his many trips and good advice - John Reinicke, plus the Benton Harbor work crews. We got out the entire remaining stock of service parts, some service and owners manuals, blueprint files, purchasing files, and many other relics and one-of-a-kind items - including a prototype V-M video tape recorder! I hope that everyone reading this realizes the positives that have come from this situation. The historical files, parts, manuals, etc. now have a less humid home than they've had in some time. Victor Miller does not have to spend hours after each rain and/or snow melt emptying water buckets anymore. Lona no longer has to worry about who might be at the door, when the phone line would go dead, when the boiler would quit, or when the next deluge would call for boots.
Today, V-M Corporation remains a registered corporation in the State of Michigan. The phone line at (616) 925-8841 has been transferred to Victor Miller's residence. The answering machine now refers people to write to me for parts, manuals, certain accessories, and general information about their V-M product. I have set up "V-M Audio Enthusiasts" for the purpose of conducting this business, at the same address as this Newsletter. I will continue to help whoever I can and in general, offer up low, 1975 V-M
prices. If you need anything V-M, please write.
Again, thanks to everyone who helped this past Summer and Fall. The Voice of Music shall live on!
"The Voice of Music" ® and other registered trademarks of V-M Corporation contained herein are used by permission.
Teen to historic prison: Al Capone's radio is wrong vintage
Philadelphia (AP) – a sharp-eyed boy who collects antique radios is taking umbrage with the vintage radio on display inside gangster Al Capone's cell at a historic Philadelphia prison.
Eastern State Penitentiary closed in 1971 and now operates as a museum and national historic landmark. Thirteen-year old Joey Warchal took a tour and noticed a radio in Capone's cell was wrong.
The Prohibition-era mobster spent time at Eastern State in 1929 and 1930. The radio was made in 1942.
The seventh grader offered to find the prison a historically accurate radio. The prison gladly accepted his help. The Philadelphia Daily News (http://bit.ly/TOX73N) reports the teen has located a 1929 model and will deliver it to the Eastern State.
Joey began collecting at age 8. His mom says while most kids want toys "he wants antiques"
Historic Store Sign Restoration
Trilogy Leather is a shop at the corner of Oxmoor Road & Broadway in the Edgewood shopping district of Homewood, Alabama. The owners, Sam Sicola, Tony Pardi and Sal Pardi, have been long-time friends of the Society.  A group from the AHRS shop restored their family console radio and they made several leather carrying straps for our museum display radios and for AHRS members.
At one time their building was occupied by a radio/television store. The painted advertising sign on the side of the brick exterior wall remains, but had become severely weathered and faded over time, rendering it hardly recognizable. Recently, the brothers had the sign restored to its former glory. Congratulations for a job well done.