The Superflex
A Publication of the Alabama Historical Radio Society      October 2020
Greetings to All
We are in the eighth month of restrictions that limit many areas of our lives. Even though this is also true at AHRS, we continue to move along slowly. The members I have been in contact with (at 6' of distance) seem to be dealing with the existing conditions very well. We continue to have a fair number of members present at the Shop on Tuesdays and Saturdays (with mask).  The Alabama Power Headquarters building atrium is still closed to the public, therefore access to the AHRS Museum remains restricted.
Mike Royer, who was a news anchor on Channel 13, here in Birmingham for many years, and is now a professor at the University of Alabama, College of Communication and Information Science, in Tuscaloosa, arranged to have two valuable microphones, owned by Gordon Hull, donated to the Society. The units are currently on display in one of our Shop display cases. We appreciate the support Mike has given our society.
As you may remember from previous newsletters, there are many items at the Shop waiting for auction. Plans are underway to have a virtual auction on Zoom in the near future. Details will be forthcoming about time and how to participate, so stay tuned!
We have been advised by a representative of the Birmingham Amateur Radio Club (BARC) they are in the early stages of planning a one day BirmingHAMfest for March 6, 2021. We will keep you advised of developments.
This is the time of year the nominating committee will be soliciting nominations to fill all officers and three of the Board positions for next year. Please consider getting more involved in the day-to-day and planning operation of your Society. Running for an office or getting involved in one of the committees is the way to accomplish this goal. We will have more on how you can participate later in this newsletter.
Although there is some work going on in the Shop it is still somewhat limited. No reports from committees at this time.
I hope all of you will stay well and be safe! We would like to see you at the Shop during our regular meeting times, when you feel the time is right.
See you at the Shop. Reminder to bring your mask!!  See you there!!
Dave
Don Keith Interview
Submitted by: Jim Rogers
I received the following from Don via Facebooks' Amateur Radio Group (10/6/2020).
Don wrote, "Just noticed that an interview I did a while back with Ted Randall on his 'QSO Radio Show' is now available as a podcast on Apple. Far as I know, it is free to listen to it. But allow a couple of hours or listen in snatches. We talk about ham radio but also broadcasting and more. Ted's show is broadcast worldwide on a commercial shortwave radio station."
Editor's Note
You will need the "Podcast' app from the "App Store" installed on your iPhone then search for "Amateur Radio QSO Show". Scroll down to the October 25, 2015 show. It is certainly worth a listen.
Legend of Broadcast? I think not!
Submitted by Steven Westbrook
William Joyce is the farthest one can get from what we at the Society consider to be a Legend of Broadcast. Joyce still made his mark on the world and the broadcast profession, even thought it was an evil one.
William Joyce was the most well-known of the radio voices of Nazi Germany during World War II. Even though there were several Nazi propaganda broadcasters called "Lord Haw-Haw", Joyce was by far the most notable and recognizable of the broadcasters with his sinister, sneering, fake upper-class British accent and his boastful, vile and vindictive delivery over the radio. Joyce's notoriety was earned during the early years of the war, especially between 1939 and 1941, specifically in 1940 when, to many, Britain appeared defeated and facing destruction of its cities by German bombers and imminent invasion by Germany. Those broadcast sealed his reputation. Listeners assumed he was British. With his scornful attitude, he became the second most hated man in Britain after Adolf Hitler. He joined the ranks of other notable radio propagandist such as: Axis Sally, Tokyo Rose and Hanoi Hanna.
Joyce was an American citizen, born in New York, the son of naturalized United States citizens from Ireland. The Joyce family moved back to Ireland in the autumn of 1909 when William was 3 ½ years old. In his youth, he became involved in several fanatical fascist organizations. After several differences of opinion with the heads of several Nazi organizations in Britain as a young man, he decided his fanatical talents would best serve the cause elsewhere. He was rabidly devoted to the ideals and persona of Adolf Hitler.
On July 4, 1933, Joyce applied for a British passport, in doing so falsely described himself as a British subject by birth, asserting he had been born in Galway, Ireland. In those days additional means of proving identity, citizenship or place of birth were not required and no check was ever made as to the veracity of his statements. A passport was issued to him for use, as he stated on the application, in connection with business travel and for holiday purposes. Joyce renewed his passport on September 24, 1938, a further renewal being made on August 24, 1939. Two days later he used it to make good his escape from Britain to Germany.
Through various connections he was introduces to representatives of the Nazi radio service. By scheming and his ambitious and ruthless nature, coupled with his ability to design his broadcast to please his German masters, Joyce's status in the radio service improved. Armed with a reputation, he soon elbowed other renegade broadcasters out of the way to emerge as the main British broadcaster.
Eventually, he hosted a propaganda show on a radio program called Germany Calling, broadcast by Nazi German radio to audiences in the Britain on station Reichssender Hamburg. The program started on September 18, 1939 and continued until April 30, 1945, when Hamburg was overrun by the British Army.
Through his broadcasts, the Reich Ministry of Public Enlightenment and Propaganda attempted to discourage and demoralize British, Canadian, Australian, and American troops and the British population, suppress the effectiveness of the Allied war effort through propaganda and motivate the Allies to agree to peace terms leaving the Nazi regime intact and in power. The Nazi broadcasts prominently reported on the downing of Allied aircraft and the sinking of Allied ships. They presented discouraging reports of high losses and casualties among Allied forces. Although listening to the broadcasts was highly discouraged, many Brits did indeed tune into them. In 1940, at the height of his influence, Joyce had an estimated 6 million regular and 18 million occasional listeners in Britain.
At the end of the war, Joyce attempted to escape Germany, but was captured by British forces at Flensburg, near the German border with Denmark. Spotting a disheveled figure resting from gathering firewood, intelligence soldiers engaged him in conversation and asked if he was Joyce. When Joyce reached in his pocket for his false passport, the soldiers, believing he was armed, shot him in the buttocks.
After his arrest, and recovery he was charged with treason and other serious crimes. The prosecution contended that since he held a British passport during the critical period of the war, even though obtained through criminal deception, he still owed an allegiance to the British Crown. Joyce had obtained a British passport by falsely claiming to be British subject born in Ireland. As far as the British was concerned, Joyce was the propaganda broadcaster whose activities had first amused then angered them from the earliest days of the war till his final drunken microphone appearance a few days before the German capitulation.
His thee-day trial held in September 1945 ended in his conviction not for espionage offences or other acts of treachery, but rather for giving aid and comfort to British enemies. This, the court decided he gave through the hundreds of radio broadcast he made during the first year of the war.
The defense contended that in 1940, at the time when the United States and Germany were at peace, Joyce had taken German citizenship. Joyce's, defense attorney also submitted documents supplied by J. Edgar Hoover's FBI that proved Joyce was a United States citizen. The High Court still convicted and sentenced Joyce to death on September 19, 1945.
He was the last person to be hanged in Britain for high treason. I guess the Brits just had a bad case of "pissed off" after their beloved county was devastated by the Nazi regime.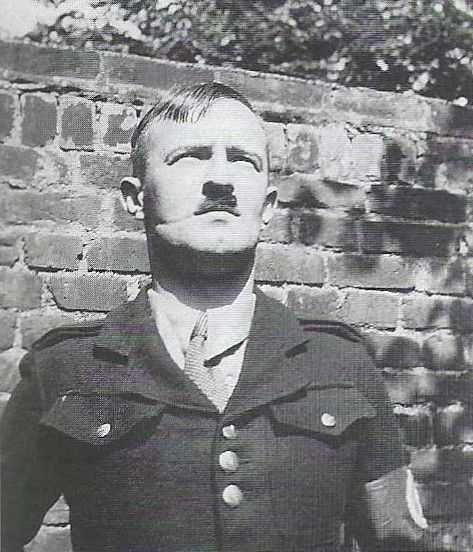 Alabama Historical Radio Society Annual Election of Officers & Board Members
That time is here again - not the national election but the AHRS election of Officers & Board Members. The election committee is taking nominations from the membership for all the offices:
President
Vice President
Treasurer
Recording Secretary
Three Board Member Positions
Webmaster
Superflex Newsletter Editor
Participation in the leadership of any organization is vital to the health and sustainable of the organization. If you are interested in running for one of these positions, please sent an email to ahrs2000@gmail.com or advise one of the members of the Election Committee below. Additional contact information can be found on the AHRS Website under About then Contact.
Election Committee:
Ray Giles
John Outland
Steven Westbrook
Tom Killian
Dee Haynes
Suspended due to coronavirus.
We meet every Saturday (unless a Holiday weekend) at 9:00 a.m., at the one-story AHRS Shop at the corner of 8th Avenue North and 18th Street, (1801 8th Avenue North, Birmingham, AL 35203). Birmingham, AL 35203). Use the rear (Southeast) entrance.
Suspended due to coronavirus.
The Shop is open on Tuesdays at 9:00 a.m. until around 11:30 a.m. when we go to Marilyn's Deli and Dog for lunch next door. Note that parking can be a problem on Tuesdays, so you may have to find street parking occasionally.
Suspended due to coronavirus.
We meet on the fourth Monday night of each month, too, at 7:00 p.m. Please come join us!
Electronics classes are being presented on Zoom. Check your email for schedule.
One more great benefit from becoming a member of AHRS--free Electronic classes!
Classes are taught the first Saturday of each month (except when something special is taking place, then we agree on what Saturday).
We start from the beginning Ohms Law, inductors, resistor and Capacitors color codes, as well as what each component does within the radio circuits. We also teach how to use test equipment used in the repairing of radios. We teach troubleshooting radio troubles, as well as how to read a radio diagram. There are coil winding classes, and one-on-one repair help. Come join these classes!
Membership dues are $25 a year, payable beginning in January. If you have questions about your dues, you can contact Treasurer Mike Woodruff at 205-823-7204. Dues can be mailed to AHRS at P.O. Box 131418, Birmingham AL 35213.
Be sure and check out our website at https/www.alabamahistoricalradiosociety.org, which has copies of all newsletters from 2006 to the present (click on News), videos, photo galleries, museum, Old Time Radio columns, Projects, Reading Rooms, Archives, and Contact Information
President – Dave Johnson
(205) 999—7178
johnelecco@charter.net
Vice President – Steven Westbrook
205-305-0679
spwestbro@bellsouth.net
Recording Secretary – Dee Haynes
205-841-4360
k4hfx1@gmail.com
Treasurer – Mike Woodruff
205-823-7204
woodruff_michael@hotmail.com
Boyd Bailey, member and Instructor 334 412-6996
Boyd.bailey@charter.net
Website – David Lake
dave2008@gmail.com
Web Address:
http://alhrs.org
E-mail Address:
ahrs2000@gmail.com
Newsletter – Jim Rogers