History of Radio in Alabama
THE HISTORY OF RADIO BROADCASTING AT AUBURN                            UNIVERSITY (1912-1961)
                                  James H. Rosene
                             A Thesis Submitted to  
        the Graduate Faculty of Auburn University
   in Partial Fulfillment of the Requirements for the
                           Degree of Master of Arts
Auburn, Alabama
December 12, 1968
From Harry D. Butler; author, Alabama' First Radio Stations 1920-1930 212 Adele Street, Rainbow City, AL +256-442-7895
                                                                                    VITA
James H, Rosene, son of Walter and Kathryn (Giles) Rosene, was born in Birmingham, Alabama, on June16, 1940. He was educated in the public schools of Gadsden, Alabama. After being graduated from Gadsden High School in June, 1958, he entered Auburn University in September, 1958, and received the degree of Bachelor of Arts in March, 1962. His major was English­ Journalism. He entered the United States Navy in June, 1962, and served in the Atlantic and Mediterranean Fleets for three years. He was discharged from the Navy, as Lieutenant (Junior Grade), November, 1966. In January, 1967, he re-entered Auburn University as a graduate student in Speech. He married Jean Dee, daughter of Charles and Mary Louise (Sherman) Fennelle, in January, 1965.
                                                                             THESIS ABSTRACT
                                           THE HISTORY OF RADIO BROADCASTING AT AUBURN
                                                                         UNIVERSITY (1912-1961)
                                                                                James M. Rosene
                                                                Master of Arts, December 12, 1968
                                                                  (B.A., Auburn University, 1963)
                                                                              128 Typed Pages
                                                                    Directed by William S. Smith
In 1912, Miller Reese Hutchinson, an Auburn alumni, donated a primitive spark gap transmitter to the Engineering Department at Auburn.  The small set marked the beginning of over two decades of educational broadcasting.  Through the following years, studios and equipment would be shifted about the campus, finally coming to rest on the top floor of the Protective Life Building in Birmingham, Alabama.
The history of radio broadcasting at Auburn University is presented through a study of the development of various transmitting sets at Auburn and Birmingham, the personnel who operated those sets and the difficulties encountered. A comparison is drawn between Auburn University's venture into educational radiobroadcasting and the failure of educational radio broadcasting in general.
The study is specifically designed to be a source of reference for undergraduates and graduates in radio-television courses at Auburn University.
                                                  ACKNOWLEDGMENTS
To Mr. V. C. Mcilvaine and Mr. P. O. Davis I express special thanks for providing me with valuable information on their part in WAPI's history.  Without their help, my task would have been far more difficult. Equal gratitude extends to the many others who wrote stimulating letters describing their part in Auburn's radio history.  For help in finding some of the more important primary material I am indebted to the staff of the Alabama Department of Archives and History and Mrs. Carolyn J. Dixon of the Department of Archives, Auburn University. I would like to express particular thanks to my wife, indefatigable reader of proofs and impeccable typist, for her many improvements and corrections.
                                                            Table of Contents
List of Figures                                                                                                                           ix
I.     INTRODUCTION                                                                                                               1
II.     THE EARLY YEARS.                                                                                                      12
The Hutchinson Set
The Birmingham News Gift
The Alabama Power Gift
III. THE BIRTH OF WAPI                                                                                         35
    The Decision to Stay in Broadcasting
    Programing in the Twenties
    The Difficulties at Auburn
IV. Broadcasting in Birmingham                                                                                          58
   WAPI is moved
   An Alliance Among Schools
   The Difficulties at Birmingham    
V.  FURTHER DEVELOPMENTS AND SALE                                                                    79
Th1e Governor and Broadcasting
The Leasings
Commercial Developments
VI.  WAPI IN RETROSPECT                                                                                                 91
BIBLIOGRAPHY                                                                                                                    99
APPENDICES                                                                                                                        105
  A. Memorandum of Agreement Between the Alabama Polytechnic Institute and the City of Birmingham, Alabama                                                                                             106
  B. Memorandum of Agreement Between Alabama Polytechnic Institute, the                       University of Alabama and Alabama College                                                            110
C. Agreement Between the Board of Control of Radio Broadcasting Station and WAPI and WAPI Broadcasting Corporation                                                                              `114
                                                          LIST OF FIGURES
1.    The "I Tappa Key Club". .                                                                                              18
2.    Code Station 5XA in 1920.                                                                                           18
3.    Extension Service Organizational Structure                                                             22
4.    5XA-WMAV Radio Broadcasting Station, Broun Hall, Auburn, Alabama, approximately 1921                                                                                                                 24
5.    Rural People Enjoying a Donated Radio Receiver, Photo Made on February 4, 1926.                                                                                                                                        29
6.    WAPI Transmitter Shack at Auburn in 1926.                                                           38
7.    Two 200-Foot Towers of WAPI in Auburn..                                                              38
8.    W. A. Young and Clayton Dow Announcing a Baseball Game at Drake Field, April, 1928                                                                                                                               49
9.    World Series Fan Mail Received by WAPI in Auburn.                                        49
10.   Staff of WAPI at Auburn, January 10, 1927                                                              52
11.    WAPI's 5,000Watt, 105-C Type Western-Electric Transmitter Located Near Sandusky, Alabama.                                                                                                                61
12.    Main Studio of WAPI Radio, Protective Life Building, Birmingham, Alabama  61
13.    Clayton Dow in the Control Room of WAPI Radio, Protective Life Building, Birmingham, Alabama                                                                                                            63
14.    WAPI Operating Statement, January, 1929, to July 1930                                       74
15. · Governor Bibb Graves Shown with Atwater-Kent Model 45 Radio Receiver       80
16.   WAPI Radio's Coverage at 50,000 Watts of Power
                                                    I.   INTRODUCTION
At American universities and colleges enterprising physics and electrical engineering departments had experimented with wire­ less telegraphy for many years prior to the development of practical voice broadcasting.
When Congress passed the pioneering Radio Act of 1912, many educational institutions quickly complied by· filing for licenses from the Department of Commerce.  Since there were few qualifications to be met, getting a license was a simple procedure.  Some of the schools to immediately· respond to the Act were the University of Arkansas, Cornell, Dartmouth, University of Iowa, Ohio State, Tulane, Villanova; and the University of W1scons1n.  Auburn University licensed and began operating its own wireless station in 1913. Other schools followed, and it seemed as though they all would be in a position to dominate voice broadcasting when it appeared in the twenties.
From 1912 to 1920 the ether was filled with the coded messages of the Marconi Company, the United States Navy, and a few enthusiastic hams. During these early years, an occasional opera­tor was  startled  to hear a human voice crackle in his earphones, but usually he was lulled by the syncopated buzz of Morse Code transmitted by primitive, homemade spark gap transmitters and received by equally primitive crystal detectors.
During World War I, the United States Navy took over all wireless broadcasting and the hams were required to disassemble their transmitters.  The consolidation of all radio technology into the hands of the Navy and the pressures of war created rapid advances in voice broadcasting.  By war's end the hams, including those at American universities and colleges, were anxious to get on the air again. The transition to primitive voice broad casting was relatively simple and soon many schools had gone over to·, the new technique. Programs and other services to listeners quickly followed.
In 1920 KDKA in Pittsburgh, Pennsylvania, was the only sta­tion in the United States licensed to provide a regular broad­ casting service. The Westinghouse East Pittsburgh factory converted a radio telegraph transmitter for radio-telephony, mounted it in a shack on the roof of a plant building and began broadcasting on November 2, 1920.
The following year only a few more stations were licensed in the new medium, but in 1922 radio broadcasting suddenly ex­ploded in to an unqualified rush for slots in the frequency spectrum. In that year, a phenomenal 500 stations were licensed.  Of course, in such a new and untried field, there would be a variety of interests, owners, and speculators.  By January of 1923 , seventy­ two universities, colleges, and schools held broadcasting licenses along with a generous sampling of newspapers, department stores, and religious organizations.  There were even a few city govern­ments, auto dealers, theatres and banks licensed.  All were eager to experiment with the novel and exciting scientific toy. Technically, the educational institutions held  the advantage since all colleges with engineering departments had talented students who were anxious to build transmitting or receiving apparatus.
The schools began broadcasting educational programs immediately.  In 1922 New York University, Columbia, and Tufts originated extension courses on the air. The mid-western schools of Wisconsin and Michigan State began programming crop and weather reports for farmers.  There was no reason why other schools couldn't provide similar services.
The advantages of radio broadcasting were obvious. With radio the university could reach far beyond the classroom, campus, or extension service. Here was direct access to the home. Now the housewife could work toward that college diploma without leaving the children. Here was access to the farmer. Radio could do the work of hundreds of agricultural extension personnel. Broadcast radio could pass along the market prices for farm products that very day, warn of impending weather conditions, and explain the latest farming tips. The problem of rural isolation would be solved.
Radio could go far beyond the traditional approaches to education. Now there could be dramatic re-enactments of history with realistic sound effects instead of dull lectures. Famous educator sand newsmakers would be available to all. Radio would bring the events as they occurred; it would conquer time. The possibilities seemed unlimited.  No doubt many educators envisioned scenes of family groups gathered about their radio receivers, enjoying the universities' cultural and educational offerings.
Yet, by the end of the twenties, it became clear that educational broadcasting was largely unsuccessful. Charles A. Siepmann, in his book Radio's Second Chance, summed up the failure by declaring, "The story of educational radio stations is, at worst, one of sheer professional incompetence, at best, it is the record of a courageous struggle against almost hopeless odds. 5 Siepmann's comment starkly simplifies the extremes of a complex and tragic tale of few triumphs and endless defeats.
By 1936, 202 educational licenses had been granted, most of them before 1927. However, during the same period,164 of these stations ceased operation or sold out to commercial interests. Fifty of the 164 lasted less than one year. Only fifty-five lasted for three years or more. 6 The thinning out process continued another ten years.
Llewellyn White reported in his book, The American Radio, that:
At the end of 1946,29 standard (AH)broadcasting stations were licensed to educational institutions; of these, 9 were commercial, 5 of them affiliated with networks. 10 of them non-commercial, were permitted to use 5,000 watts or more power; but, of these, only two could broadcast between sunset and sunrise, local time. 7
What happened to educational broadcasting? What caused such a promising venture to shrink to insignificance? How could hundreds of educational stations become only a handful? At the risk of oversimplification, it is necessary to point out that all radio has certain inherent shortcomings. The audience is forced to listen blind, a problem which television solved in the late forties and fifties. The human voice and sound effects can do just so much in presenting material or establishing mood. The remainder is left to the visualization powers of the listener. Radio drama became a popular art form because it stimulated this visualization process.  However, visualization of philosophy or physics based on a voice and sound effects was another matter.
Broadcasting was, and still is, one-way in nature. Normally, there is no direct feedback from the audience. Again, in a radio drama or even a quiz show, an immediate audience response was unnecessary; but traditionally students had always been able to ask questions, the radio student could not.
Radio quickly became the slave of time, the advent of network broadcasting required strict adherence to a program schedule. Non-commercial radio, in order to gain and hold any audience of its own, had to adhere to a similar schedule. Thus, programs had to fit into strict time limits regardless of subject matter. 6 Schedules also required that the listener be on call, no matter how inconvenienced.
Early radio had only the most primitive of audience sampling methods. Stations merely asked their listeners to send a postcard if they could hear the broadcast. Judging the circumstances and intelligence of the audience with such a primitive technique was impossible. To educational broadcasting an accurate estimation of audience composition was essential.
Upon examination of the shortcomings attributed specifically to educational broadcasting, one finds that most authorities have blamed economics in general and three groups in particular: the commercial broadcasters, the United States Government, and the educators themselves.
The commercial broadcasters financed their stations through advertising.  August 28, 1922, is the date considered by many to mark the debut of American broadcast commercialism. On that day at 5:00 p.m. WEAF, the famous American Telephone and Telegraph station, leased ten minutes of air time to the Queensboro Corporation to promote the sale of apartments in Jackson Heights, New York. 8 From this modest, in direct appeal, radio advertising grew to the high profits and hard sell of the thirties.
The educational stations remained dependent upon state and university funds, with occasional contributions and gifts from other sources. 9 Almost from the very beginning, they found themselves at a financial disadvantage.
With strong financial backing, the commercial broadcasters were able to bring overwhelming pressure to bear against the educational broadcasters. With so many stations clammering for frequencies, there were countless hearings before the Federal Radio Commission and later the Federal Communications Commission. The commercial stations were able to finance these often extended hearings and hire qualified lawyers to present their cases; the educational stations could not. As a result, the Commission tended to rule in favor of the commercial stations. In addition to frequency allocations, the Commissions often ruled against the educators on matters of channel interference, frequency shifts, time sharing, and limitation of broadcasting hours.10 All of these were common technical problems of the twenties.
While the institutions were interested in providing a service to a relatively small portion of the population, the quest for profits caused the commercial broadcaster to seek wider audi­ences. It was a classic case of opposing goals. The commercial station, maneuvering from a superior economic position, forced their heavy-handed victory.
Authorities have condemned the government for allowing commercial broadcasters to put so much economic pressure on the schools. Educational stations were licensed along with the commercial ones. Neither side, at least on paper, was given any privileges. Yet, from a financial standpoint, it is clear that the educational stations needed some kind of protection.
The Radio Act of 1927 put a great burden on some institutions. By that time radio technology had become relatively so­ sophisticated, but many schools were struggling along with equipment they had used from the beginning. The Act placed equipment standards upon broadcasters, and stations were required to stay within restrictive power and frequency limits. Many educational stations with their obsolete transmitters could not meet these requirements. 12 Unable to finance new equipment, they gave up their licenses. Many feel these technical standards could have been temporarily waived for the schools.
Finally, the educators must share some of the blame. In 1920, institutions were not prepared  to finance the dreams of a few faculty members and students. As the equipment standards went up, substantial financial support was essential.                      Far too often it never came. As the novelty of radio wore off, pro­ gram standards also became a factor. Listeners were no longer content with whatever they could tune in. Educational broadcasts became boring, long,  and unimaginative. With limited funds, station directors and script writers were either very poor or very inexperienced
There was resistance to a new medium that called for considerable deviation from traditional teaching methods. An excellent lecturer in the classroom was often found to be something else on radio.
One other factor in the failure of educational broadcasting which can't be attributed to any particular group can be described as "entertainment fixation." As commercialism and the quest for audiences grew, the listeners began thinking of radio strictly as entertainment. The commercial broadcasters realized that they must appeal to the widest possible audience to be successful. They created programs that were "fun." "Amos 'n Andy," "Jack Armstrong," and even "The Whiz Kids" were "fun" programs.  All entertainment became "fun."  The educators, not particularly interested in audience size, wanted to propagate information. Education became "information" and "infor­mation" wasn't much "fun."  Most of radio became a relaxing, uninvolved diversion. Educational stations, as exceptions, found themselves in a hostile environment.
The history of radio broadcasting at Auburn University typifies the failure of educational radio in the United States. Auburn was plagued by all the difficulties ever faced by an educational station.  The University administrators and station managers struggled with a commercial station over shared time. They were miffed by an unsympathetic Federal Radio Commission, and they could never solve the problems of financial 10 support. There were miscalculations; there were blunders; but despite   them all,  Auburn deserves the  highest tribute. This  is truly "the  record  of  a  courageous struggle against almost hopeless odds.

                                                            FOOTNOTES
1 Erik Barnouw, A Tower in Babel (New York: Oxford University Press, 1966), I, 32.
2 Ibid., p. 69.
3 Sydney W. Head, Broadcasting in America (Boston: Houghton Mifflin Co., 1956), p. 109.
3 Llewellyn White,  The American Radio (Chicago University of Chicago Press, 1947), p. 101
5 Charles A. Siepmann, Radio's Second Chance (Boston: Little, Brown and Co., 1946), p. 270.
6 White,  p. 101.
7 Ibid., p. 102.
8 Barnouw, p. 110.
9 Ferris Tyler, An Appraisal of Radio Broadcasting in the Land-Grant Colleges and State Universities (Washington: National Committee on Education by Radio, 1933), p. 12.
10 White, pp. 102-104.
11 Ibid., p. 110.  White explains that this mistake was not made with FM and television. In both cases, certain specified educational channels were set aside for the exclusive use of non­ commercial broadcasters. The disaster of AM broadcasting was suf­ficient cause to prompt the FCC to belated action.
12 Ibid. , p. 103.
13 Siepmann, p.271.
14 Ibid.,
15 Ibid., p.270
                                                      II.  THE EARLY YEARS
The Hutchinson Set
Disaster brought radio into prominence in 1912. Frantic dots and dashes from the sinking Titanic had pricked the public interest, and suddenly those curious wireless sets had become useful. Congress quickly passed a radio act to license and  regulate stations. By adopting the "SOS" signal proposed at the Berlin Convention of 1906 and by assigning the specific many  wave lengths to be used, Congress hoped that the new legislation would save lives at sea. 1 Of course, on land, wireless could never   hope to replace Morse's telegraph which had been such a faithful servant to the nation for decades.
Despite all the public interest, in 1912 naval disasters and wireless sets were far, far away from tiny, land-locked Auburn. Only the professors and students in electrical engineering and physics understood how the unusual gadgets worked. Most of them considered wireless impractical overland. Other areas of study seemed eminently  .   In January, when a famous alumnus donated a wireless set to the Electrical Engineering Department, only a handful of people saw any value in the new device.
The alumnus was Miller Reese Hutchinson, electrical engineer, inventor, and assistant to Thomas A. Edison. 2 The set was small and, of course, very crude; but in 1912, it was  the very latest design. The set had a spark transmitter with straight gap and plate glass condenser.  The receiver was a crystal detector. 3 A 150-foot steel pipe mast was erected near the east end Broun Hall, and an antenna was strung from   there to the second floor of Broun where the set was located. 4 There is some evidence that Hutchinson left his post at the Edison Laboratories in Orange, New Jersey, and traveled to Auburn to supervise the installation himself. 5
There is no doubt that he came to Auburn the following year to attend an elaborate alumni homecoming celebration which had been arranged to coincide with June graduation. During this event on Tuesday, June 2, 1913, Hutchinson formally dedicated the set. 6 In his speech, he read the first message transmitted with the new apparatus.
Mr. Thomas A. Edison, Orange,   N.J. :
This wireless formally christens the two-and-a-half kilo-watt apparatus which I have this day presented to the Alabama Polytechnic Institute in commemoration of the first homecoming of the alumni. The president, the faculty, the alumni , and the   student body join me in expressing love and esteem to the father of electrical development.
Miller Reese Hutchinson 7
The set had a limited range; and unless the message was relayed by other operators, it is doubtful that Edison received the well wishes until Hutchinson returned to work.
With the call letters 5YA and a wave length of 1800 meters, a few faculty members and students proudly put the small station on the air. The following year, a course in wireless telegraphy was offered which included code work and fundamental radio principles. 8 The station was operated for several years without a great deal of fanfare or activity. Some modifications of the original equipment were made in order to increase range, and 5YA was heard as far away as Indianapolis, Indiana. 9
World War I brought a national fear of spies and saboteurs with a resulting ban on private wireless operation. The United   States Navy took over all the stations it could use, and the remainder were required to shut down and disassemble their transmitters. 10 At Auburn 5YA was dismantled in accordance with the new law, and wireless work was restricted to training operators for the Army. Two limited range,   portable sets were used. Issued by the Army, they were housed in small, grey boxes (see Figure 2) . The Army also provided some non-transmitting buzzer devices for teaching code.11  Over 200 wireless telegraph operators were trained at Auburn during the war. 12
One of the Instructors hired by the school to train the soldiers in wireless telegraphy was a young Tampa, Floridian, named Victor Caryl Mcllvaine. Born in 1898, Mcllvaine had become interested in radio in 1912 after reading a radio catalog which he had found. He had constructed a set and taught himself code by listening to a nearby Marconi station. Later he had obtained a first-grade amateur and a second-grade commercial operator's license. 13
In the summer of 1917, Mcllvaine went to sea as an operator for the Marconi Company and for a year traveled about the Gulf of Mexico . In 1918, he was hired by Alabama Polytechnic Institute as a radio instructor for the soldiers in vocational training. He began teaching and attending electrical engineering classes.
After the armistice in November, 1918, McIlvaine decided to stay at Auburn and get an engineering degree. He found himself taking freshman and sophomore courses during his senior year, since he had been permitted to take most of the advanced   courses while only a freshman. 14
In 1919, the ban on transmitters was lifted. McIlvaine immediately began building a new code station. All that was left of 5YA was the 150-foot antenna pole, so he used what apparatus he had of his own plus cast-off items he could scrape up from the Electrical Engineering Department and the machine shop. The new station was licensed 5XA, indicating that it was the first experimental station in the fifth radio district. 15
For transmitting, the station had an old Clapp-Eastham Type E one KW transformer, a homemade rotary quenched gap spark unit, a plate glass condenser, and an OT made of one-fourth inch ribbon. 16 The hoisting cable on the Hutchinson antenna pole had deteriorated during the war, so Mcllvaine persuaded his roommate, E. F. Sanborn, to shinny up the pole and replace it. On his first attempt, Sanborn reached the first group of guy wires about half-way up. 5XA operated for several weeks with a single wire antenna to this point. Later, Sanborn tried again and by using two loops of rope, one for each foot, and alternately sliding them up the pole, he managed to reach the top . From here a single wire, long-wave antenna was extended to a water tank behind Wright's Drug Store. 17
The school permitted the station to be housed in a small room in the rear of a wooden-framed building near the campus main gate. The remainder of the building was used for chemistry classes. Here the set was gradually improved by making a new OT, obtaining a two KW Packard transformer, salvaging a one-eighth horsepower motor and mounting a hyrad disk on it, immersing the condenser in transformer oil, and purchasing an antenna ammeter. The college permitted all this activity, but no financial assistance was given. 18
The new station began attracting amateur operators, and soon there were enough hams in the Auburn area to keep 5XA on the air almost continuously. A watch schedule was established so someone would be on duty at night. To the little corps of operators the rotary spark gap "made beautiful music and generated a lovely odor of ozone. While someone was sending, you could read the sparks on a power pole at the main gate". 19
As the first person to establish a full—time, professional caliber station at Auburn, Mcllvaine is unquestionably the father of Auburn broadcasting.
In 1920, the operators formed the "I Tappa Key Club" (see Figure 1). Meetings were irregular, usually when one of the members got a box of cookies or other treats from home. The only "associate" member was Eleanor Dickinson Mcllvaine, wife  of V. C. Mcllvaine and sister of club member Jack M. Dickinson. She skillfully supplemented the boxes from home with her own cooking. 20
The faculty member with the greatest interest in the hams was Professor A. St. C. Dunstan, affectionately nicknamed "Bull". He taught courses in electrical. engineering and acted as faculty advisor to the group. His son, Arthur ( "Little Bull"), joined the club while still in high school and remained affiliated with the station throughout his college years. 21
At the beginning of the school year 1921-22, the station expanded into an adjoining room. By this time, the hams had accumulated an overflow of electronic equipment, and the old room had become crowded. The various receiving apparatus, a home- made power panel, a one-fourth KW 500 cycle transmitter, and a five-watt CW set were moved into the new room. 22 The main spark transmitters remained in the old room  (see Figure 2) . The year was spent in continuous radio activity.
Fig. 1.  The  "I Tappa Key Club" Left to right, front row: J. C. Bailey, H. S. Brownell, V. C.   Mcllvaine, F. W. Breedlove ; back row: W. B. Duncan, J . M, Dickinson, E. F.   Sanborn, A. E. Duran, Tom Neely, T. G. Conner.
Fig 2.  Code station 5XA in 1920. Notice the two portable Army sets in the center.
The Birmingham News Gift
On March 19, 1922, while 5XA hummed with activity, a new era of Auburn broadcasting began. The Birmingham News, in a front-page story, announced that it was donating $2,500 to Auburn for the purchase of a new voice broadcasting station. 23 The donation was to be part of a $1000,000 fund-raising campaign which Auburn supporters had begun that year. Victor Hanson, editor of The News, had decided to make the newspaper t s contribution specifically for a new station. Auburn alumni, H. W. Brooks and Lonnie Munger, were given credit for originating the idea. Brooks had been a radio operator in the United States Army and, with E. A. Allen and R. D. Spann, had operated the original Hutchinson set while attending Auburn. 24 Mc11vaine and Professor Dunstan traveled to Birmingham and demonstrated a borrowed radio receiver to Mr. Hanson. Voice stations in Detroit (WWJ) and Pittsburgh (KDKA) were tuned in. 25
The Birmingham News publicized the gift for several days , stating that the new station would be as powerful as any in the country and that Auburn would be the fifth college in the nation to have such an installation. 26 A reporter contacted Thomas A. Edison for comment, and in a front-page article, Edison was quoted as having said, "That is fine, fine . I am delighted that a radio broadcasting station of such proportions will be established in a southern university " 27 Thus for a second time, Edison was informed of new radio developments at Auburn University.
The News  announced in another story that the purpose for purchasing a broadcasting station for Auburn was to make absolutely certain that nightly programs at Auburn would be available to all parts of Alabama, even under the most unfavorable  weather conditions. 28
Dr. Sprite Dowell, Auburn President, publicly regarded the new station as "essential to the proper equipment of a modern technical college. 29 Professor Dunstan was openly enthusiastic. In a statement for The News he said, "The gift of $2,500 to Auburn by The Birmingham News for the purchase of a powerful radio broadcasting outfit spells the elimination of isolation in Alabama. He said that radio programs would be regularly broadcast by the new station, and like the air we breathe, they would be free to any person who would install a radio set to receive them.30
Professor Dunstan's enthusiasm was merited. In 1922, radio transmission of the human voice was still in its infancy The pioneering KDKA in Pittsburgh had made its famous first broadcast only seventeen months earlier, In Alabama only a few people had receiving sets and even fewer had transmitters In March, 1922, there were approximately 125 receiving sets, eleven radio telegraph dispatching stations, and five radio telephone dispatching stations in Birmingham. There were no broadcasting stations anywhere in the state.31  The Alabama Power Company would begin operating WSY in Birmingham on April 24 1922.
Since assembled transmitters were unavailable in those days , the new station at Auburn would have to be homemade. The necessary apparatus was purchased at a discount through Matthews Electrical Supply Company of Birmingham. 32
As the parts began to collect at the Auburn Railroad Depot the University administration initiated a search for the proper place to put a broadcasting station in the school's organizational structure. Since a radio station would extend Auburn University to the people of Alabama, it was decided to make it a function of the Agricultural Extension Service (see Figure 3). Mr. L. N. Duncan, Director of Extension, called on Mr. Posey Oliver Davis in his office in Comer Hall and told him he was to be the new radio station manager. 33
Born on August 15, 1890, at Athens, Alabama, Mr. Davis had attended Potter College at Bowling Green, Kentucky and Auburn University, where he received the B . S. degree in 1916. He had pursued further graduate study at Auburn and began a career in news and public relations work for the Extension Service and Experiment Station. 34
Mr. Duncan told Davis that the school had no money for operating a broadcasting station; but since Mr. Hanson had made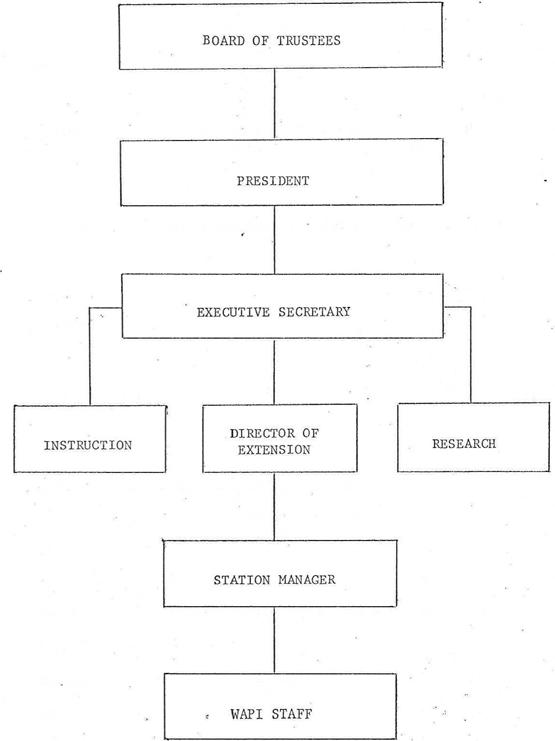 Fig. 3 Extension Service Organizational Structure
the gifts they were on the spot to do something with it. 35  Later Davis recalled the moment:
So there in about two minutes 1 found myself in charge of a radio broadcasting station in a railroad station. This was where I started and was in it for a dozen difficult years-- always trying to run a creditable broadcasting station in a little town with very limited means, a derth [sic] of talent, and countless problems, some of which turned into headaches and heartaches. 36
Mr. Davis soon would become the key personality in the development of broadcasting at Auburn University. His administrative skill would be a powerful factor in prolonging the station survival.
McIlvaine and the other 5XA operators volunteered their services and went to work assembling the transmitter parts. By the time the station got on the air, the Extension Service had spent much more than $2, 500. There were countless hidden expenses in wiring and furnishing a studio. 37
The new station and 5XA were moved into a room on the second floor at the southeast end of Broun Hall. Four transmitters and the new station were arranged to operate from the same position. They were as follows: (1) a 100-watt CW on 200 meters, (2)  a one KW non-synchronous spark on 200 meters, (3) a two KW synchronous spark on 375 meters, (4) a one-fourth quenched gap spark set (ship type) on 200 meters, (5) the new broadcasting station capable of 1500 watts. 38  (see  on 200 meters. (Figure 4).
Fig. 4 - 5XA-WMAV Radio Broadcasting Station, Broun Hall, Auburn, Alabama, approximately 1921.
The new broadcasting station required an efficient ground system; so after considerable discussion, the operators decided to construct one using old thirty-gallon tanks. For maximum efficiency, the tanks were cut in half lengthwise, each piece connected to a heavy wire cable, and the entire system buried near Broun Hall. The cable led to the operating room on the second floor. To cut the tanks, Mcllvaine and a few of the operators slipped into the electrical engineering lab when no one else was around, started one of the D.C. generators, and used an electric arc. Being unfamiliar with arc cutting, they failed to use a face mask and each became very red—faced. Luckily, no one suffered any eye damage. 39
By the end of the year, a commercial license was granted by the Commerce Department. The assigned call letters were WMAV. Mcllvaine created the slogan      "Make A Voice" to correspond with the letters. 40
WMAV began broadcasting in November of 1922. The homemade 1500-watt transmitter would never be operated at full power  because there was never enough money to get six operable 250- watt tubes together at one time. The tubes were expensive and had very short lives. 41
On February 21, 1923 WMAV formally opened and dedicated. Victor Hanson, Governor Brandon, and Auburn President Dowell made speeches on the air, and the A. P. I. Serenaders provided music. 42

As a new extension of the state land-grant university, WMAV was immediately obligated to program regularly for the people of Alabama. The University announces that the station was primarily for weather, market and crop reports. Broadcasting for pure entertainment was to be of a secondary nature. The station began broadcasting weather reports at 10:00 a.m. and 12:00 noon on 480 meters. Market reports soon followed.
As the schedule was enlarged, regular broadcasts were begun at 8:00 p.m. on Thursdays and Saturdays. By this time, the frequency had been shifted to 250 meters.
On Thursday evenings, a musical program was usually offered. Soon after the station had been moved into Broun Hall, a remote microphone was installed in nearby Langdon Hall Auditorium, From here concerts could be picked up for broadcast. 43 The school orchestra and glee club were featured regularly. At other times, instrumental solos and vocalist were scheduled and occasionally someone would make a short speech. 44 Since radio was still a novelty, listeners were delighted to hear anything. On the other hand, the station operators enjoyed using the equipment and would gladly broadcast anyone who could play an instrument.
On Saturday evenings, a farm program was offered. Faculty members in the Agriculture Department made talks on farming practices and market conditions. 45
The increased broadcast activity brought a rather severe acoustical problem to McIlvaine 's attention. Within the buildings, the primitive microphone picked up undesirable reverberations and feedback. McIlvaine never fully solved the difficulty; but by draping velvet around the microphone, he was able to dampen it somewhat. 46
While WMAV's programing slowly expanded, the code station continued handling ever-increasing traffic. as a member of the American Radio Relay League, 5XA provided a radiogram service free of charge to the public. In May, 1923, 5XA handled over 300 messages which entitled it to membership in the Brass Pounder's League. The little station was heard as far away as Canada, Hawaii, and England. 47
As radio technology improved, operators became more sophisticated; but there were still plenty of novices around, Louis Howle, one of the student operators, tried for months to talk via code to California. He sent out calls to many stations, but no answers came back. One night while working the station alone, John McCaa, another student, communicated with six stations in California. Howle was perplexed when he saw the contacts listed in the log the following morning and accused McCaa of an over-active imagination. That night they both went to the station, and Howle again tried to raise several California stations. There were no answers. He turned to McCaa and said, "Now you talk to one." McCaa sat down, and the first station he called answered. The reason, they discovered, was that Howle was calling at twenty words per minute; while McCaa could manage only five words per minute. The stations in California could not copy at the faster speed. 48
As people began buying radio receivers for their homes, the number of WMAV listeners increased. Even before the station was formally dedicated, postcards had been received from   twenty-one states. Most of these were nigh-time contacts when atmospheric conditions were favorable. Daytime broadcasting was limited to parts of Alabama and surrounding states. 49
To increase range it was decided to improve the antenna. Dean J. J. Wilmore, Head of the Engineering Department, gave the operators permission to erect a new antenna pole on the roof of Broun Hall. The students cut down a forty-foot pine tree, stripped off the limbs, hoisted it to a prominent place, and strapped it into position. When Dean Wilmore saw the improvised antenna mast, some say he lost all the dignity of his office. 50
An early plan called for locating receivers at county agricultural extension offices so low income rural folk could benefit from the farm programs. The Matthews Electrical Supply Company of Birmingham donated ten receiving sets to the University for this purpose. Total value of the sets was over $2,000. 51 Six of them were located throughout the state, and four were kept at Auburn for teaching and experimental work. Installations were made at Athens, Bay Minette, Dothan, Florence, Greensboro, and Guntersville 52 (see Figure 5) . Mcllvaine spent several days

Fig. 5. ——Photo made on February 4, 1926, shows a typical rural group enjoying a donated radio .receiver. Miss Thalia Bell, Home Demonstration Agent (with flashlight operating the radio) , arranged for the radio concert.
traveling about the state installing these receiving sets. He also began a small business in Auburn with a classmate, H. S. Brownell. They sold homemade radio receivers. The lowest priced model sold for $8.75. 53
WMAV continued broadcasting until 1925. McIlvaine was graduated in 1923, giving up his position as radio instructor and chief operator. J. M. Wilder, a student instructor in radio, took charge of WMAV, and L. W. Howle took over 5XA. 54
The Alabama Power Company Gift
On April 24, 1922, the Alabama Power Company began operating, the first radio broadcasting station in Alabama. Its call letters were WSY, and it was located on Powell Avenue in downt0wn Birmingham. The station was soon moved into the Loveman, Joseph, and Loeb Department Store. A studio was built in the store's radio shops and an antenna was mounted on the roof. 55
By the fall of 1923, the power company decided that it could no longer continue to support the station. The cost of hiring talent for programs became excessive. On November 6 1923, WSY broadcast its final evening of entertainment. 56 The station then remained dormant for over a year.
Early in 1925, at the suggestion of Victor Hanson, the Alabama Power' Company donated WSY to Auburn. 57 The station was dismantled, shipped to Auburn, and reassembled by the radio students . Wilder was in charge of the operation. He was sent to Memphis, Chicago, Cincinnati, and Atlanta to get first-hand information on the proper method of installation. 58
The new station was transmitting within a few months. The old WMAV call letters were retained.
Despite the gift of WSY, the station was already obsolete. Very little progress was being made. Through the country a "radio boom" was on. Stations with strong financial backing were coming to the forefront. WMAV was not keeping pace

                                                                      FOOTNOTES
Head, Broadcasting in America, 126.
2. Orange and Blue, September 28, 1912, p. 3.
3. A. M. Dunstan, "Radio Station Had Small Beginnings, The Auburn Engineer, I (April, 1926) , 7.
4. Orange and Blue, September 28, 1912, p. 3.
5. Ibid
6. "The Hutchinson Wireless Station Auburn Alumnus , 11 (August, 1913) , 17.
7. Ibid.
8. "Course in Wireless Telegraphy at Auburn Next Year," Auburn Alumnus, 111 (August, 1914) , 13.
9. Dunstan, The Auburn Engineer, (April, 1926) , 7.
10 Head, Broadcasting in America, 104.
11 Interview with V. C. McIlva1ne, September 15, 1968.
12 Dunstan, The Auburn Engineer, (April, 1926) , 7 .
13 V. C. McIIvaine, "Radio Station 5XA, T' East Gulf Radiogram (May, 1922) , 13.
14 Interview with V. C. Mcllvaine, September 15, 1868.
15 Letter from V, C. -McIlvaine to author, August 16, 1968.
16 McIIvaine, East Gulf Radiogram, (May, 19 22) , 150
17 Interview with Jack M. Dickinson, September 15, 1968.
18 McIlvaine, East Gulf Radiogram, (May, 1922) , 16.
19 Letter from Albert E. Duran to author, July 23, 1968.
20 Interview with V. C. Mcllvaines September 15, 1968.
21 Letter from L. W. Howle to author, July 22, 1968.
22 McIIvaine, East Gulf Radiogram, (May, 1922) , 16.
23 The Birmingham Newsy March 19, 1922  p. 1.
24 The Birmingham News, March 20, 1922,   p.1.
25 Orange and Blue, March 25, 1922, p.1 .
26 The Birmingham News , March19, 1922, p.1.
27 The Birmingham News , March 22, 1922, p.1.
28 'The Birmingham , News,  March 19, 1922, p.1.
29 Ibid.
30 The Birmingham News , March 20, 1922, p.1.
31 The Birmingham News , March.19, 1922, p.1.
32 Orange and Blue, March 25, 1922, p.1.33
33 Letter from P. O. Davis to Dr. Ralph Draughon, November 25, 1961.
34 Frank L. Grove, Library of Alabama Lives (Hopkinsville, Ky. : Historical Record Association, 1961) , p. 143.
35 Letter from P. O. Davis to Dr. Ralph Draughon, November 25, 1961.
36 Ibid.
37 Ibid
38 Letter from Albert E. Duran to author, July 23, 1968.
39 Interview with V. C. McIlvainey September 15, 1969.
40 Ibid.
41 Ibid.
42 The Plainsman, March 14, 1924, p. 1.
43 Interview with V. C. McIlvaino, September 15 1968.
44 The Plainsman, March 14, 1924, p. 1.
45 Ibid.
46 Letter from J. J. Duncan to author, July 26, 1968.
47  The Plainsman, December 7 , 1923, p. 1.
48 Letter from John McCaa to author, July 29 , 1968.
49 The Plainsman, November 29, 1922, p. 1.
50 Letter from L. W. Howle to author, July 22, 1968.
51 The Birmingham News, March 26, 1922, p. 1.
52 The Birmingham News, February 3, 1923, p. 1.
53 The Plainsman, November 18, 1922, p. 2.
54 Letter from L. W. Howle to author, July 22, 1968.
55 Thomas W. Martin, The Story of Electricity in Alabama (Birmingham: Birmingham Publishing Company, 1952)  p. 78.
56 Ibid.
57 J. M. Wilder, "Radio Station W.A.P.I" The Auburn Engineer , I (October, 1925) , 7.
58 The Plainsman, January 31, 1925, p. 1.