WSY - First Radio Station in Alabama
WSY was a 500-Watt AM radio station operated by Alabama Power Company in the early 1920s. It was Alabama's first licensed radio station, and the 127th in the United States. The slogan of the WSY station was "We Serve You".
Alabama Power launched WSY on April 24, 1922 from a studio at 1921 Powell Avenue, adjacent to its steam plant. They utilized a "wired wireless" means of transmitting their signal from high-tension power lines in order to communicate to isolated steam plants and rural work crews. Not long after, the company began receiving letters from residents across the state thanking them for broadcasting things like weather reports and making programming suggestions. The utility responded by adding interviews, stock quotes, an orchestra composed of Alabama Power employees, a show featuring a Tuskegee Institute quartet, and five Birmingham church services to their programming. As one of the country's earliest radio stations, WSY had the ability to reach people as far away as Canada and Cuba and was hailed as the most popular radio station in the Eastern United States.
In January 1923, the station's studio was moved to the radio department in the top floor of the Loveman, Joseph & Loeb Department Store, with an antenna strung between two rooftop towers. A February ice storm pulled down the newspaper press lines, so WSY broadcast AP and UPI stories from Birmingham to their respective wire service offices (as well as to anyone else listening). Civic groups were invited to make announcements over the air and selected churches sent their pastors into the studio to broadcast sermons on Sundays. During the week the station broadcast weather and market reports to farmers and produced music programs in the evenings, featuring the company's own WSY Orchestra, comprised mainly of Alabama Power employees. The end of each broadcast day was signaled by three slow anvil strikes.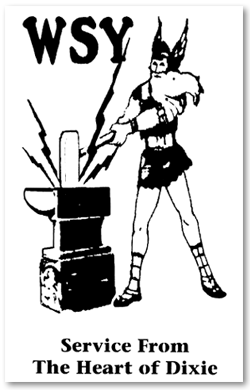 By the fall of that year, the station was so successful Alabama Power faced having to hire employees dedicated solely to running the station. The company opted instead to get out of the radio business. Alabama Power produced its final broadcast on November 6 and the station's equipment and license was donated to Alabama Polytechnic Institute (API), which had launched a radio program with its own station WMAV in September 1922.
WSY's equipment, however, was already obsolete and of little use to WMAV. Rather than disappoint their supporters, the College's Extension Service and Department of Electrical Engineering voted to purchase a modern 1000-watt Western Electric transmitter. Two 200-foot towers were erected adjacent to the new radio building and a studio was outfitted on the 3rd floor of Comer Hall. The new station was dubbed WAPI, and its first broadcast featured an in-studio announcer reading telegraphed updates from the school's September 1925 football game at Birmingham-Southern College.
Photographs and other documents relating to WSY are displayed in the radio history museum maintained by the Alabama Historical Radio Society in the atrium of the Alabama Power building at 600 18th Street, North in downtown Birmingham, Alabama.